Below are the steps for adding a student photo to TeacherEase:
1. Login to TeacherEase
2. Under the "Yearly Setup" tab click on "Students Single View"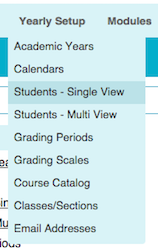 3. Search for the student
4. After selecting the student click "Edit Student" button located at the bottom
    


5. The ability to upload a Picture is under the heading "Basic Info"
    

6. Click the "Choose File" button
    


7. Select the photo to upload
8. Click the "Save" button located at the bottom of the page